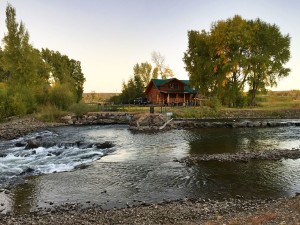 Because of its quite, individual challenge, and comfortable fit with the area's wilderness solitude, the Conejos River is an excellent "location" to pursue the fine art of fly fishing.
With spring fed lakes, miles of alpine freestone streams with numerous beaver dams, fishing success is just a cast away.
The San Jaun Wilderness Area has an abundance of wildlife and wildflowers to see and enjoy, offering opportunities for nature study and photography. For those who enjoy hiking, the alpine zone near the Conejos offers you a chance to explore the rugged, less accessible areas of the San Jaun Mountains.
Guest Ranches and Fishing Lodges will provide fly fishing guides upon request.
All the classic elements are here in perfect combination: great high mountain lakes feed the cool rushing streams that are tributaries to the legendary Conejos River, famous among Colorado and Northern New Mexico fly fishers.
Conejos River Fly Fishing LodgesYou don't need to be an expert to realize that the fly fishing here is some of the best in the country.
6000 acre Platoro Reservoir near Platoro, Colorado has great fishing, camping, hiking, back packing canoeing and boating.
Nearby towns of Antonito, Colorado and Chama, New Mexico are home to the historic narrow guage steam powered Cumbres & Toltec Scenic Railroad. Tickets my be purchased in Antonito or Chama for this spectacular mountain railroad train ride.
Fly fishing is not the only activity on the Conejos. Numerous hiking and mountain biking trials originate on the Conejos' banks, climbing through alpine meadows and Aspen forests to the San Jaun wilderness peaks.
Elk, Mule Deer and Beaver are plentiful along the Conejos.