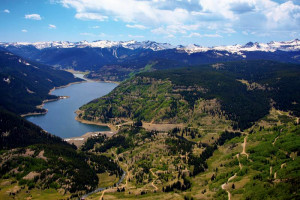 6000 acre Platoro Reservoir near Platoro, Colorado has great fishing, camping, hiking, back packing canoeing and boating.
Guest Ranches, Fishing Lodges and Camping Areas along the Conejos' path offer the summer vacationer the ultimate high country mountain vacation experience.
Platoro Dam and Reservoir are part of the San Luis Valley Project in the south-central portion of the State of Colorado.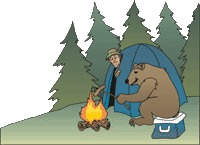 Platoro Dam is on the Conejos River about 1 miles above the town of Platoro, Colorado. The Dam stores floodwaters of the Conejos River, a tributary of the Rio Grande, for release when the normal flow falls below irrigation requirements. Recreation at Platoro Reservoir is under the jurisdiction of the U.S. Forest Service, Rio Grande National Forest.
In the historic mining town town of Platoro, Colorado lodging, groceries, restaurants, and other amenities can be found.
The dam was completed in 1951 and regulates the water supply for 81,000 acres of land irrigated by the Conejos Water Conservancy District.
Fly Fishing for Rainbow and Brown Trout at Platory Lake in Platoro New MexicoThe reservoir is located in a high mountain valley with broad vistas of the San Juan Mountains. A wilderness area is located to the south of the reservoir area. Since the recreation season is short and the location remote, use is low to moderate.
Nearby towns of Antonito, Colorado and Chama, New Mexico are home to the historic narrow guage steam powered Cumbres & Toltec Scenic Railroad. Tickets my be purchased in Antonito or Chama for this spectacular mountain railroad train ride.
Fly fishing is not the only activity on the Conejos and Platoro Reservoir. Numerous hiking and mountain biking trials originate on the Conejos' banks, climbing through alpine meadows and Aspen forests to the San Jaun wilderness peaks.
Elk, Mule Deer and Beaver are plentiful along the Conejos and the high country surrounding Platoro.